Janany Jeyasundaram, Occupational Science and Occupational Therapy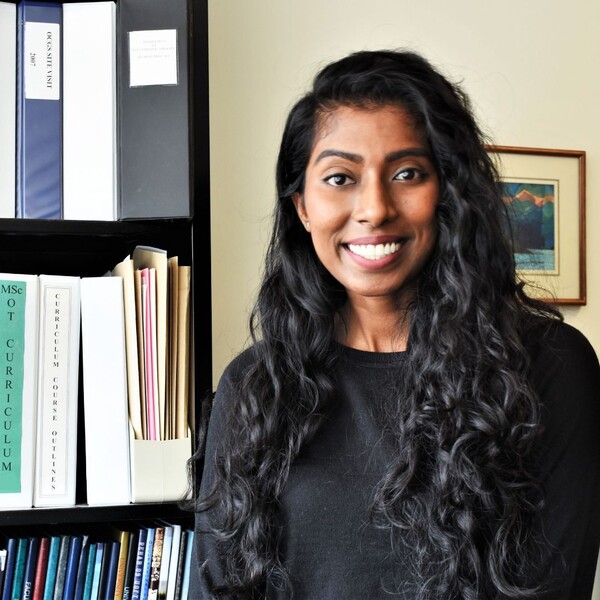 My identities and experiences have shaped my perspectives on how humans experience occupations within the opportunities and constraints of social and cultural circumstances. As the daughter of refugees, I have a strong sense of being between two worlds—the world of my parents in their homeland, which I have imbibed and internalized, and the world I was born into, where I do not fully belong. I have witnessed legacies of trauma both in my personal circles and in my role as an occupational therapy student. Throughout my occupational therapy education, I actively sought leadership opportunities to further my understanding of equity and move the profession towards greater inclusion of vulnerable populations.
This year, I established the Student Inclusion Diversity Equity and Accessibility (IDEA) Committee, which is a student-led group with the vision to move towards a more equitable learning environment for OS & OT learners. To actualize this vision, we leverage our collective experiences and knowledge to plan and implement equity initiatives that foster new learning and personal growth. For example, in partnership with experts, the Student IDEA Committee was able to host the department's first ever Black Futures Month event in February of 2019. The two-part workshop addressed the specific role occupational therapists can play to identify disparities and better meet the needs of Black populations. This leadership role has been the most rewarding for me because it allowed me the opportunity to learn from and contribute to our collective development as change agents—a core competency needed in work with vulnerable populations.
In recognition of my leadership, I was pleased to be a recipient of the 2019 Gordon Cressy Student Leadership Award. This acknowledgement has instilled a confidence and motivation in me to continue to do this work.